Tibetan Empire and Successors, 7th-13th C. AD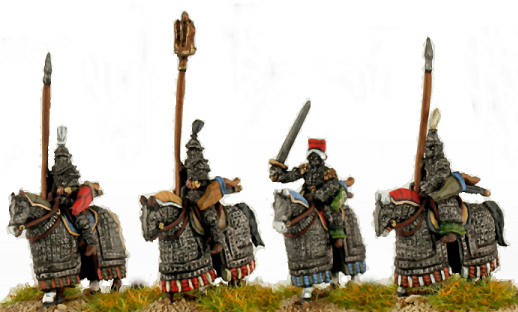 Tibetan Armoured Cavalry and King painted and based by .


A line of models for the aggressively expansionist Tibetan Empire, whose power lay primarily in its very heavily armoured cavalry, who were quite prepared to fight on foot as well as mounted.

These models are also suitable for Hsi Hsia armies.

Infantry sculpted by Darren Greenaway. Cavalry and dismounted cavalry sculpted by Sandra Garrity. Tent sculpted by "clibinarium."
| Code | Contents | Price (US$) | Order/Progress |
| --- | --- | --- | --- |
| KM-400 | Tibetan Armoured Cavalry on Armoured Horses (x 8) | $9.99 | |
| KM-401 | Tibetan Nomad Horse Archers (Tuyuhun), Bow (x 4) | $4.99 | |
| KM-402 | Tibetan King and Standardbearer, on Armoured Horses, Plus Two Armoured Cavalry | $4.99 | |
| KM-403 | Tibetan General and Standardbearer, on Armoured Horses, Plus Two Armoured Cavalry | $4.99 | |
| KM-404 | Tibetan Dismounted Cataphracts, Long Spears (x 8) | $4.99 | |
| KM-405 | Tibetan Dismounted King, Standardbearer and Two Dismounted Armoured Cavalry, Long Spears | $2.49 | |
| KM-406 | Tibetan Dismounted General (Depicted as a Normal Dismounted Armoured Cavalryman with Longspear), Standardbearer and Two Dismounted Armoured Cavalry, Long Spears | $2.49 | |
| KM-407 | Tibetan Garrison Infantry Spearmen (x 8) | $4.99 | |
| KM-408 | Tibetan Garrison Infantry Archers (x 8) | $4.99 | |
| KM-409 | Himalayan Mountain Tribesmen, Skirmishing with Long Selfbow (x 8) | $4.99 | |
| KM-410 | Tibetan sBra-gur-type Tent (x 1) | $1.99 | |
| TR-4 | Tibetan Maikhan-type Wedge Tent (x 1) | $2.99 | |
| TR-8 | Stone wall section (1 x 40mm length) | $2.49 | |
| TR-7 | Supply Ox Cart | $4.49 | |