15mm Tupi Tribes 1200-1600AD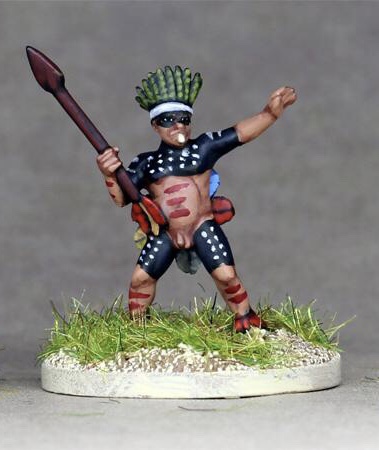 The Tupi were a group of ferocious tribes, who gave the Portuguese quite a hard time in their colonial efforts in the region in the sixteenth century.  They are described as ritualistic cannibals (as opposed to eating other humans as an essential part of their diet), and as able to raise large armies when confederated.  Their tactics were to roll up to the enemy in a mass, fire off several volleys from their enormous longbows, drop these and resort to their hardwood two handed warclubs, with which they proceeded to "charge like bulls!"  

To show this method of fighting, we have poses of Warriors shooting -- they only carried a handful of arrows so didn't wear a quiver. They all did have the warclub (except perhaps a few who were detailed off as skirmishers), and each so archer figurine is provided with a separate warclub so it can be put on the base, to make it clear he'll be grabbing it once his arrows are used up!  (See image below for an idea how to do this on your models.) Also available are separate sets of Warriors who have tossed the bow and are wielding the hardwood warclub. Finally, we have leaders gesturing the tribes forward, and to show their status they are each provided with a separate round feather backbanner -- other than the separate warclub, this is the only separate piece provided that requires assembly.  (If you have any generals left over you can always just use the general figurine as a warrior or local headman by leaving off his back banner.)
Some tribesmen (or perhaps whole tribes) wore feather headdress and anklets, whereas others did not, thus revealing the shaven central head that gave many Tupi tribesmen a "tonsured" hairstyle, like that of medieval monks. (The Portuguese called them "the baldies.") Other than the feathers, they mostly fought naked during their most ferocious period. (They are sometimes illustrated as covering their naughty bits, but that might have been a European way to avoid scandalous illustration, or the tribes might have actually adopted more modest garb after decades of European influence.) However, this doesn't prevent the Tupi from being an incredibly striking army, due to the extensive and colourful tattooing of their bodies.


| Code | Contents | Price (US$) | Order/Progress |
| --- | --- | --- | --- |
| TUPI-BOW-FEATHER | Tupi, Feathered Headress, Bow (x5 in 5 poses, with five separate warclubs) | $4.49 | |
| TUPI-CLUB-FEATHER | Tupi, Feathered Headress, War Club (x5 in 5 poses) | $3.99 | |
| TUPI-BOW-TONS | Tupi, Tonsured Hairstyle, Bow (x5 in 5 poses, with five separate warclubs) | $4.49 | |
| TUPI-CLUB-TONS | Tupi, Tonsured Hairstyle, War Club (x5 in 5 poses) | $3.99 | |
| TUPI-FTH-COMM | Tupi commanders/chieftains, Feathered Headdress (x2 in 1 pose with separate feather backbanner) | $1.99 | |
| TUPI-TONS-COMM | Tupi commanders/chieftains, Tonsured Hairstyle (x2 in 1 pose with separate feather backbanner) | $1.99 | |
| TUPI-DBA | Tupi DBA Army -- all options, except the camp: 1 set of commanders in feathered headdress, 4 sets of 5 Warriors in feathered headdress with longbows, 2 sets of 5 Warriors in feathered headdress with warclubs, 2 sets of 5 Warriors in tonsure hairstyle with longbows, and 2 sets of 5 Warriors in tonsured hairstyle with warclubs | $42.99 | |
| TUPI-ADLG | Tupi ADLG Army Deal -- 1 set of 2 general figurines in feathered headdress, 1 set of 2 general figurines in tonsured hairstyle, 10 sets of 5 Warriors in feathered headdress with longbows, 8 sets of 5 Warriors in feathered headdress with warclubs, 8 sets of 5 Warriors in tonsure hairstyle with longbows, and 8 sets of 5 Warriors in tonsured hairstyle with warclubs | $144.99 | |