Ordering Information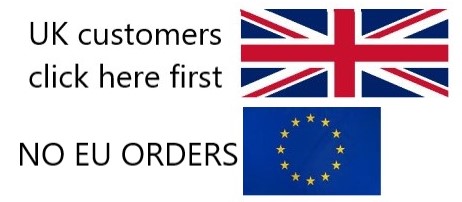 By ordering you are deemed to have accepted the terms and conditions on this page.


DISCLAIMER

THESE MINIATURES ARE NOT TOYS. THEY ARE FOR ADULT HOBBYISTS, NOT FOR CHILDREN. THEY CONTAIN SMALL, SHARP PARTS AND COULD BE HARMFUL TO CHILDREN IF PLAYED WITH OR INGESTED.

Not Disclaimers but almost as important
1) All models are provided unassembled and unpainted.

2) We are very sorry but we cannot be responsible for providing replacements for the odd few models that take some damage in transit. If a few bayonets break off in transit, that sort of thing.

UK and VAT
I am not registered with the UK to collect VAT, so when you place your order, I will contact you so we can put your order through an internet marketplace so that they can charge the VAT. I will send you instructions via e-mail -- that is, the e-mail on your paypal, so THAT MUST BE AN ACTIVE E-MAIL ADDRESS.

Delivery times
While we aim to get orders out as expeditiously as possible, and would love to (and aim to) ship orders with a week or receipt of order, we often find it takes up to a month to process orders, due to complexity of order, stock shortages, and simply more orders coming in that we can ship. There used to be a long convoluted message here explaining why this was, but that doesn't really matter to you as a gamer and collector. It's better to just state this fact simply.

As a helpful guide, let us point out that an order for 30 packs of the same code will in all likelihood be ship in a day or two, whereas an order for one each of thirty different codes is much more likely to take quite a bit longer to process.

Order confirmation

When we get an order, we send you a confirmation. (If you don't get it, check your spam before writing to complain.) We do not send confirmations of delivery, and usually do not send messages if an order gets delayed. We're very happy to check on your order, however, so feel free to drop us a line if you are curious how it's going. We would please ask that you wait about two weeks before inquiring though (one week for us to work up to it in the queue and one week for delivery time).

Pose mixtures
Every effort is made to make the selection of poses in every pack as varied as possible -- this is why we pay for multiple poses to be sculted. That said, due to the policies of the casters this is not always possible and at times a random mix of poses will have to be included in the pack rather than a strictly proportionate number of each pose. We regret that there is nothing we can do about that.

Payments
I accept payment through PayPal only. Donít worry, if you donít have a PayPal account, you can still use your credit card to make the payment through PayPal. If you donít have a credit card or a PayPal account, enlist someone who does to help you order!

Orders are gladly taken from all over the world -- my prices are in USD, but don't worry about exchange rates, PayPal will take care of this for you, and convert your payment from the US dollar to your currency when it is taken from your bank account (or credit card).

How to order
As you will see, there is a button next to each available item type. Just click the ones you want, and (as if by magic) PayPal registers the order for ONE pack of such item. Once you have all the items you want chosen, simply increase the pack quantities in PayPal using the cart update. Then process the order as you would normally using PayPal. If you are using a credit card, PayPal will prompt you on how to do that.

If there is no PayPal button next to the item, it is not yet available. The box should instead indicate what stage in development the pack has reached for those who are curious.

Shipping
Orders within the USA ship via first class or priority mail. Shipping is $7.00 for orders up to $35.99, $9.00 from $36.00 to $79.00, and $14.00 over $79.00.

International orders ship by normal US air mail. Shipping costs to non-US destinations are based on the amount of the order and how far away (reflecting 2021 USPO rates unfortunately), and are as follows:

AUS, CHN, HK, NZ, SKOR, THAI, TAIW, JP, SNG, and MALAY:

From $0.01 to $24.99 is $19.00
From $25.00 to $56.00 is $28.00
From $56.01 to $86.00 is $32.00
From $86.01 to $250.00 is $44.00
$250.01 and up is $60.00

EVERYWHERE ELSE:

From $0.01 to $24.99 is $15.00
From $25.00 to $56.00 is $25.00
From $56.01 to $86.00 is $28.00
From $86.01 to $250.00 is $40.00
$250.01 and up is $55.00

Tax issues
Orders to be shipped to New York State will need to include the state and local tax. NYS residents be advised that, if your order does not include a NYS tax rate when it is calculated, I will need to separately invoice you for the tax before I ship the models.

For those receiving shipping outside the USA, you will be responsible for any tax or other duty payable on the shipment or the models when they arrive at your destination (or at your taxing authority). Please do not ask me to misrepresent the price of your delivery as this is against the law in the US (and probably in your country as well) and would subject me (and you) to liability.

Lost or damaged packages
I cannot accept responsibility for packages that are lost or damaged in the hands of the delivery service. If the shipper is required to assert a claim for lost or damaged packages, I will do so to the full extent possible. I will provide you with the customs number (if it is an overseas shipment) or the delivery confirmation number (if it is a shipment in the States) to confirm that the package was sent out.

If this is not satisfactory to you, but you'd still like to order, you may want to consider purchasing insurance for your package, or upgrading it to a more secure shipping method. Please contact me and I will let you know what insurance prices or alternate shipping fees are for your package.

Returns and Replacements
All sales are final. However, if you wish to return a product within 30 days of shipment of the order, please contac me and we can discuss a restocking, which I will usually do at 75% of price of the items. I do not consider this to be unreasonable as images are available of all items on the site, and I need to be compensated for the time spent processing and shipping your order.

If anything is miscast, please let me know. After contacting me by e-mail so we can discuss, you can return the miscast piece to me, or scan all the miscast pieces, and I will replace pieces that are miscast. Please understand that I cannot check every piece to see if it is a perfect casting, although it is our intention to provide only perfect castings, and use the top casters in the industry to assure you get clean castings.


THANK YOU FOR YOUR SUPPORT, WHICH SUSTAINS THIS ENTERPRISE