11th-Early 12th century European ("Frankish") Knights -- Normans, Germans, French, First Crusaders, Later Lombards, etc.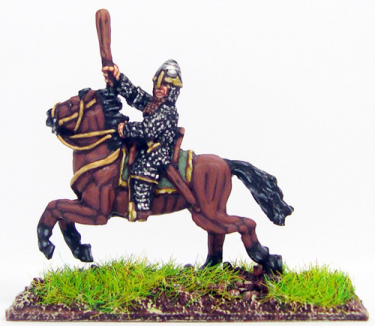 Frankish warlord with traditional club of command painted by
Raven Painting.
The Central and Western Europeans who the Byzantines called "Franks" had by the eleventh century established a reputation as fiercely charging, headstrong cavalry that made them sought-after mercenaries and feared adversaries. Whether they were slaughtering each other, conquering England, seizing Jerusalem for Christ or encroaching on the land of the Slavs, they were always at war. By the Eleventh Century, the Italian Lombards, and other Italian mounted nobility, were largely similar.

The tactics of these knights were often more flexible than has been acknowledged, and they were able to use their spear for throwing or thrusting overhead in addition to charging with it couched. Our models represent this variety of tactics, and also provide for fighting with their strong straight sword.

Sculpted by Mike Broadbent.


| Code | Contents | Price (US$) | Order/Progress |
| --- | --- | --- | --- |
| KM-1200 | Norman, Frankish or Lombard Milites, charging with various weapons (x 6, six different poses and three different horse poses) | $8.99 | |
| KM-1200W | Norman, Frankish or Lombard Milites Warband, charging with various weapons (x 24) | $32.99 | |
| KM-1200H | Norman, Frankish or Lombard Milites Horde, charging with various weapons (x 48) | $62.99 | |
| KM-1207 | Norman, Frankish or Lombard Milites in Lamellar Armour, Charging with Lance (one pose, meant to mix with KM-1200) (x 3) | $4.49 | |
| KM-1209 | Norman, Frankish or Lombard Unarmoured Cavalry (Gentry, Followers, or Light Cavalry), charging/skirmishing with spears (x 6, three different poses and three different horse poses) | $8.99 | |
| KM-1209W | Norman, Frankish or Lombard Milites Unarmoured Cavalry (Gentry, Followers, or Light Cavalry), charging with various weapons (x 24) | $32.99 | |
| KM-1209H | Norman, Frankish or Lombard Unarmoured Cavalry (Gentry, Followers, or Light Cavalry) Horde, charging with various weapons (x 48) | $62.99 | |
| KM-1201 | Norman, Frankish or Lombard commander with mace, standard bearer, and musician, charging (x 3) | $4.49 | |
| KM-1202 | Norman, Frankish or Lombard warlord with wooden club (x 1) | $1.49 | |
| KM-1203 | Norman, Frankish or Lombard archers, unarmoured (x 12) | $6.99 | |
| KM-1204 | Norman or Frankish Unarmoured Spearmen (x 12) | $6.99 | |
| KM-1205 | Dismounted Norman, Frankish or Lombard Milites, spears (x 12) | $6.99 | |
| KM-1206 | Swabian Swordmen or other Dismounted Milites with Sword of War (x 8) | $4.69 | |
| KM-1208 | Peasants or lower class crusading pilgrims (x 20) | $10.99 | |
| KM-1210 | Norman, Frankish or Italian crossbowmen of mixed protection (x 12) | $6.99 | |
| KM-1211 | Siculo-Norman "Saracen" archers (x 12, including sprue with 9 small shields) | $6.99 | |
| KM-1212 | Siculo-Norman "Saracen" Close Fighters with Hand Weapons (x 12) | $6.99 | |
| KM-1213 | Sicilian Greek "Griffon" Javelinmen (x 12) | $6.99 | |
| KM-1214 | Italian or Southern French Communal Militia Spearmen (x 12) | $6.99 | |
| KM-819 | Ex-Byzantine Patzinak mercenary horse archers ("Former Turkopouli"), shooting (x12) | $17.99 | |
| TR-8 | Stone wall section (1 x 40mm length) | $2.49 | |
| TR-4 | Dark Ages Wedge Tent (x 1) | $2.99 | |
| TR-7 | Supply Ox Cart | $4.49 | |