Horse and Rifle -- 15mm Later 19th century, 1853-1913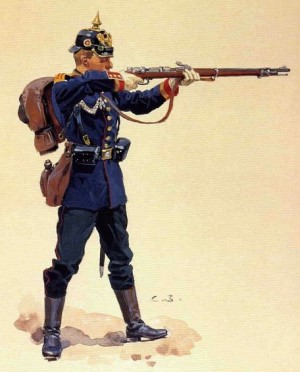 This is a range for colonial and conventional conflicts in the era in which rifled weapons were the predominant infantry arm, until artillery and the machine gun surpassed the rifle in determining battles. We are starting with one of the most famous and hotly contested colonial conflicts in Africa, but will soon expand into Europe and the Americas.

Anglo Zulu War 1879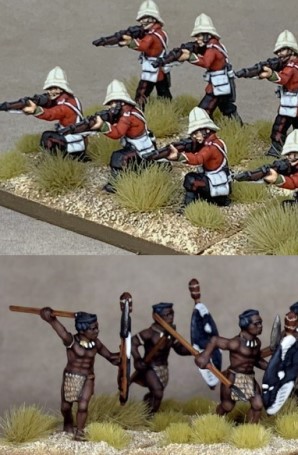 This range provides the models for arguably the best known colonial conflict in Africa, and possibly even the best known colonial conflict of all. The first releases cover the basic building blocks for the conflict up until the second invasion introduced more troop types into the conflict.

Cetshwayo kaMpande, King of the Zulu Kingdom, required that his impis campaign in stripped-down battle dress with no regalia, and from images of prisoners this seems to have been largely complied with, but other images show that at least some regalia was worn by individuals, so we have made a set of models, married and unmarried, wearing regalia.

People with a casual interest in the period may be surprised to learn that firearms were far from uncommon in Zulu impis -- in fact in terms of raw numbers the Zulus had more at the start of 1879 than did their British adversaries in the theater (and many modern Martini-Henry rifles were acquired as a result of Isandlwana). However, these were largely obsolete muzzle loaders and sometimes even smoothbores, and the Zulu warriors often saw them as especially powerful javelins -- they'd get off one shot and then toss them. So some of the warriors in the "EZ bild" sets (see the paragraph below for more on those) are wearing a powder horn but no longer carrying their "super assegai," only one model in each set still having his musket.

Please note that the Zulus held their shields in the center and the models have been designed to do this as well. It looks smashing but some may be concerned about repeated handling of the models, and to address this we have also made several codes called "EZ bild", which permit the shield to be attached to the hand, and to lie across the forearm and then attach to the body as well, for a sturdier set. If you game with multiple models on a base, you may want to put the very realistic looking basic zulus in the middle of the base and put some EZ build zulus on the outsides, which are more likely to be handled.


| Code | Contents | Price (US$) | Order/Progress |
| --- | --- | --- | --- |
| HAR-1879-BRIT-COMM-FIGHT | 15mm Horse and Rifle 1879 British Infantry Command, Fighting (x6 in three poses) | $4.99 | |
| HAR-1879-BRIT-COMM-STAND | 15mm Horse and Rifle 1879 British Infantry Command, Standing (x6 in three poses) | $4.99 | |
| HAR-1879-BRIT-DEF-KNEEL | 15mm Horse and Rifle 1879 British Infantry Receiving with Fixed Bayonet, Kneeling (x6 in three poses, only the kneeling poses shown are provided) | $4.99 | |
| HAR-1879-BRIT-DEF-STAND | 15mm Horse and Rifle 1879 British Infantry Receiving with Fixed Bayonet, Standing (x6 in three poses, only the standing poses shown are provided) | $4.99 | |
| HAR-1879-BRIT-SHOOT-KNEEL | 15mm Horse and Rifle 1879 British Infantry Shooting, Kneeling (x6 in three poses, only the kneeling poses shown are provided) | $4.99 | |
| HAR-1879-BRIT-SHOOT-STAND | 15mm Horse and Rifle 1879 British Infantry Shooting, Standing (x6 in three poses, only the standing poses shown are provided) | $4.99 | |
| HAR-1879-BRIT-ARTILLERY | 15mm Horse and Rifle 1879 British 13 or 18 Pounder Artillery (barrels provided for either (one piece and four crew) | $4.99 | |
| HAR-1879-NNH | 15mm Horse and Rifle 1879 Natal Native Horse (x3 mounted men, x3 dismounts, three separate spear bags) | $7.99 | |
| HAR-1879-NNC | 15mm Horse and Rifle 1879 Natal Native Contingent (x10 in six poses (two different poses with rifles, and two each of four different poses with spears), with separate spears and shields) | $8.99 | |
| HAR-1879-ZULU-UNMARR | 15mm Horse and Rifle 1879 Unmarried Zulu Warriors, Battle Dress (x10 in ten poses, with separate spears and shields, plus one knobkerrie) | $8.99 | |
| HAR-1879-ZULU-MARR | 15mm Horse and Rifle 1879 Married Zulu Warriors, Battle Dress (x10 in ten poses, with separate spears and shields, plus two knobkerries -- only eight of ten different poses are shown in the image, but ten are provided) | $8.99 | |
| HAR-1879-EZBILD-UNMARR | 15mm Horse and Rifle 1879 "EZ BILD" Unmarried Zulu Warriors, Battle Dress (x7 in seven poses, one carrying a muzzleloader, some wearing powder horn, with separate spears and shields, plus one knobkerrie) | $6.29 | |
| HAR-1879-EZBILD-MARR | 15mm Horse and Rifle 1879 "EZ BILD" Married Zulu Warriors, Battle Dress (x6 in six poses, one carrying a muzzleloader, some wearing powder horn, with separate spears and shields, plus one knobkerrie) | $5.39 | |
| HAR-1879-EZBILD-REGAL | 15mm Horse and Rifle 1879 "EZ BILD" Mixed Zulu Warriors, Wearing Some Regalia (x7 in seven poses, with separate spears and mixed size shields, plus one knobkerrie) | $6.29 | |
AUSTRO-PRUSSIAN WAR, 1866