15mm Samurai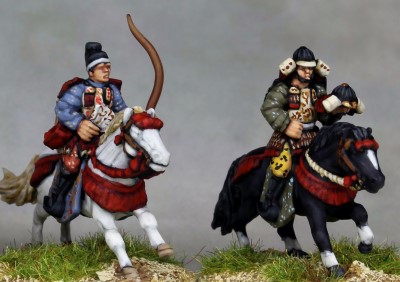 This range will cover Japanese armies from the rise of the Samurai until the end of the Age of Wars. It will be released in stages, with the first stage being the Samurai up until the adoption of the katana in response to issues the tachi had in dealing with Mongol armour during the two invasions.

In the early period, the samurai and their retainers seem to have fought as combined forces rather than segregated into separate forces, The samurai in this period was a mounted archer, wearing the boxy and very heavy o-yoroi armour. Poor rural samurai fought on foot and used the naginata or other close combat weapons.

Note that for the early retainers, three are wearing do-maru, and another three lighter armour, and these can be mixed, or if your game system provides for better and worse tiers of retainers, the better retainers can be represented by the men in do-maru.


WITH TACHI
| Code | Contents | Price (US$) | Order/Progress |
| --- | --- | --- | --- |
| SAM-HICOM-YOR-TACH-F | 15mm Samurai high command, fancy horses, yoroi and tachi, Shogun or other high commander, noble retainer holding the Shogun's helmet, hero or messenger wearing Horo wire-frame back-flag (3 figurines) | $4.99 | |
| SAM-MCOM-YOR-TACH-S | 15mm Samurai mounted command, simple horses, yoroi and tachi, lord, retainer in leather armour holding lord bow, standardbearer (3 figurines) | $4.99 | |
| SAM-MCOM-YOR-TACH-F | 15mm Samurai mounted command, fancy horses, yoroi and tachi, lord, retainer in leather armour holding lord bow, standardbearer (3 figurines) | $4.99 | |
| SAM-CAV-YOR-TACH-S | 15mm Samurai cavalry shooting bow, simple horses, yoroi and tachi (x6 in three poses) | $10.99 | |
| SAM-CAV-YOR-TACH-F | 15mm Samurai cavalry shooting bow, fancy horses, yoroi and tachi (x6 in three poses) | $10.99 | |
| SAM-FCOM-YOR-TACH | 15mm Samurai foot command, yoroi and tachi, lord, retainer in leather armour holding lord's bow, standardbearer (x6 in three poses) | $4.99 | |
| SAM-BOW-YOR-TACH | 15mm Samurai on foot with bow, yoroi and tachi (x8 in five poses) | $6.69 | |
| SAM-POOR-TACH | 15mm poor rural Samurai on foot, tachi, do-maru or o-yoroi, three poses with naginata, one pose with nagamaki (x8 in four poses) | $6.69 | |
| SAM-RETAIN-TACH-NAG | 15mm Samurai Retainers in Do-maru or lesser armour, tachi, Naginata, hoko (spear) or kumade (bear-claw grappling-hook) (x6 in six poses) | $4.99 | |
| SAM-RETAIN-TACH-BOW | 15mm Samurai Retainers in Do-maru or lesser armour, tachi, bow (x6 in six poses) | $4.99 | |