Thirteenth Century Feudal/Medieval, 1200-1310AD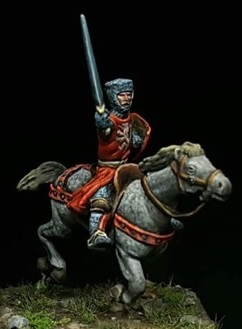 The Thirteenth Century was the high point of knightly warfare, the end of the High Middle Ages, when the concepts of chivalry were developing and battles were often decided by the clash of great forces of fully armoured men on horseback -- often a thousand or more on each side, such as at Bouvines in 1214. This was also the age of the Later Crusades, which could not match the fervor or success against the Muslim powers of the first great conquering crusade, but did, incidentally, bring about the "Frankish" conquest of large portions of the Byzantine Empire during the Fourth Crusade, leading to the establishment of the unlikely, romantic principalities of Frankish Greece.

At the periphery of the European Feudal world, there was a great deal of conflict. This was the period in which the great drive to the East was begun in earnest by the Teutonic Knights. Also in the East, Mongol invasion inundated Russia and placed Eastern Europe in great peril. (A Mongol conquest range is available separately.) In Spain the Reconquista continued, despite rivalries amongst the Christian states and frequent fresh infusions of fanatical Berbers into the Muslim states of Al-Andalus.

Notes on the range, SEPTEMBER 2019:
This is a very large range and it will take a while for us to get images of all of the many men-at-arms codes. Note that, for each men-at-arms code, multiple horse options are available. Sometimes these will be illustrated using a split image, with the riders on the top half and the horses they are provided with on the bottom. For codes not pictured, of course it's up to the gamer to decide whether he or she would prefer to purchase the models without seeing them, but rest assured the models are of the same exceptionally high sculpting quality as the models that are shown! The infantry is mostly all shown in the images.

The initial releases are men-at-arms in kettle helmets and men-at-arms in steel caps or just mail aventails, which were all looks used throughout the thirteenth century, and then men-at-arms in barrel helms, which had taken the shape shown here by about 1230, and men-at-arms in "sugarloaf helmets," a great helm like the barrel helm but conical at the top, which became increasingly common toward the end of the century. Please note that lance carrying men at arms have been made with the lance up or held at 45 degrees, in order to make the figures more practical in massed battle games where couched lances are an impediment to base-to-base contact. My suggestion is not to use the lancers at 45 degrees for horizontal lances, because the lance was couched when couched horizontally. Horses in the range are called, for convenience sake, "rounceys" for everyday riding and "coursers" for the often somewhat larger horses ridden on the battlefield.


MOUNTED COMMAND AND PRINCES
| Code | Contents | Price (US$) | Order/Progress |
| --- | --- | --- | --- |
| 13THC-ENGLISH-COMM-UC | 15mm 13th century English mounted high command: Henry III, Edward I, and Simon de Montford, on unarmoured coursers | $4.49 | |
| 13THC-ENGLISH-COMM-AC | 15mm 13th century English mounted high command: Henry III, Edward I, and Simon de Montford, on armoured coursers | $4.49 | |
| 13THC-ENGLISH-COMM-CC | 15mm 13th century English mounted high command: Henry III, Edward I, and Simon de Montford, on caparisoned coursers | $4.49 | |
| 13THC-GERMAN-COMM-CC | 15mm 13th century German mounted high command: Frederick II Hohenstaufen, Manfred of Sicily, and a German warrior-cleric, on caparisoned coursers | $4.49 | |
| 13THC-GERMAN-COMM-UC | 15mm 13th century German mounted high command: Frederick II Hohenstaufen, Manfred of Sicily, and a German warrior-cleric, on unarmoured coursers | $4.49 | |
| 13THC-GERMAN-COMM-AC | 15mm 13th century German mounted high command: Frederick II Hohenstaufen, Manfred of Sicily, and a German warrior-cleric, on armoured coursers | $4.49 | |
| 13THC-FRENCH-COMM-AC | 15mm 13th century French mounted high command: Louis IX, Philip IV, and Charles of Anjou, on armoured coursers | $4.49 | |
| 13THC-FRENCH-COMM-UC | 15mm 13th century French mounted high command: Louis IX, Philip IV, and Charles of Anjou, on unarmoured coursers | $4.49 | |
| 13THC-FRENCH-COMM-CC | 15mm 13th century French mounted high command: Louis IX, Philip IV, and Charles of Anjou, on caparisoned coursers | $4.49 | |
| 13THC-LEADERS-AC | 15mm 13th century leaders (bannerets or higher command) with swords (x4 in four poses), on armoured coursers | $5.99 | |
| 13THC-LEADERS-UC | 15mm 13th century leaders (bannerets or higher command) with swords (x4 in four poses), on unarmoured coursers | $5.99 | |
| 13THC-LEADERS-CC | 15mm 13th century leaders (bannerets or higher command) with swords (x4 in four poses), on caparisoned coursers | $5.99 | |
| 13THC-TRUMPETERS | 15mm 13th century trumpeters (x2 in two poses), on rounceys | $2.99 | |
MOUNTED MEN-AT-ARMS IN KETTLE HELMS
| Code | Contents | Price (US$) | Order/Progress |
| --- | --- | --- | --- |
| 13THC-MAA-KETTLE-L45-UC | 15mm 13th century mounted men-at-arms in kettle helms, lance at 45 degrees, on unarmoured coursers (x3) | $4.99 | |
| 13THC-MAA-KETTLE-L45P-CC | 15mm 13th century mounted men-at-arms in kettle helms, lance at 45 degrees, on caparisoned coursers (x3) | $4.99 | |
| 13THC-MAA-KETTLE-L45-AC | 15mm 13th century mounted men-at-arms in kettle helms, lance at 45 degrees, on armoured coursers (x3) | $4.99 | |
| 13THC-MAA-KETTLE-LUP-UC | 15mm 13th century mounted men-at-arms in kettle helms, lance up, on unarmoured coursers (x3) | $4.99 | |
| 13THC-MAA-KETTLE-LUP-AC | 15mm 13th century mounted men-at-arms in kettle helms, lance up, on armoured coursers (x3) | $4.99 | |
| 13THC-MAA-KETTLE-LUP-CC | 15mm 13th century mounted men-at-arms in kettle helms, lance up, on caparisoned coursers (x3) | $4.99 | |
MOUNTED MEN-AT-ARMS IN COIF OR STEEL CAP
| Code | Contents | Price (US$) | Order/Progress |
| --- | --- | --- | --- |
| 13THC-MAA-COIF-LUP-UC | 15mm 13th century mounted men-at-arms in chain coif or steel cap, lance up, on unarmoured coursers (x3) | $4.99 | |
| 13THC-MAA-COIF-LUP-AC | 15mm 13th century mounted men-at-arms in chain coif or steel cap, lance up, on armoured coursers (x3) | $4.99 | |
| 13THC-MAA-COIF-LUP-CC | 15mm 13th century mounted men-at-arms in chain coif or steel cap, lance up, on caparisoned coursers (x3) | $4.99 | |
| 13THC-MAA-COIF-L45P-CC | 15mm 13th century mounted men-at-arms in chain coif or steel cap, lance at 45 degrees, on caparisoned coursers (x3) | $4.99 | |
| 13THC-MAA-COIF-L45-UC | 15mm 13th century mounted men-at-arms in chain coif or steel cap, lance at 45 degrees, on unarmoured coursers (x3) | $4.99 | |
| 13THC-MAA-COIF-L45-AC | 15mm 13th century mounted men-at-arms in chain coif or steel cap, lance at 45 degrees, on armoured coursers (x3) | $4.99 | |
MOUNTED MEN-AT-ARMS IN BARREL HELMS
| Code | Contents | Price (US$) | Order/Progress |
| --- | --- | --- | --- |
| 13THC-MAA-BARREL-LUP-CC | 15mm 13th century mounted men-at-arms in barrel helms, lance up, on caparisoned coursers (x3) | $4.99 | |
| 13THC-MAA-BARREL-LUP-UC | 15mm 13th century mounted men-at-arms in barrel helms, lance up, on unarmoured coursers (x3) | $4.99 | |
| 13THC-MAA-BARREL-LUP-AC | 15mm 13th century mounted men-at-arms in barrel helms, lance up, on armoured coursers (x3) | $4.99 | |
| 13THC-MAA-BARREL-L45-AC | 15mm 13th century mounted men-at-arms in barrel helms, lance at 45 degrees, on armoured coursers (x3) | $4.99 | |
| 13THC-MAA-BARREL-L45-UC | 15mm 13th century mounted men-at-arms in barrel helms, lance at 45 degrees, on unarmoured coursers (x3) | $4.99 | |
| 13THC-MAA-BARREL-L45P-CC | 15mm 13th century mounted men-at-arms in barrel helms, lance at 45 degrees, on caparisoned coursers (x3) | $4.99 | |
MEN-AT-ARMS IN SUGARLOAF HELMS
| Code | Contents | Price (US$) | Order/Progress |
| --- | --- | --- | --- |
| 13THC-MAA-SUGARLOAF-L45P-CC | 15mm 13th century mounted men-at-arms in sugarloaf helms, lance at 45 degrees, on caparisoned coursers (x3) | $4.99 | |
| 13THC-MAA-SUGARLOAF-L45-UC | 15mm 13th century mounted men-at-arms in sugarloaf helms, lance at 45 degrees, on unarmoured coursers (x3) | $4.99 | |
| 13THC-MAA-SUGARLOAF-L45-AC | 15mm 13th century mounted men-at-arms in sugarloaf helms, lance at 45 degrees, on armoured coursers (x3) | $4.99 | |
| 13THC-MAA-SUGARLOAF-LUP-UC | 15mm 13th century mounted men-at-arms in sugarloaf helms, lance up, on unarmoured coursers (x3) | $4.99 | |
| 13THC-MAA-SUGARLOAF-LUP-AC | 15mm 13th century mounted men-at-arms in sugarloaf helms, lance up, on armoured coursers (x3) | $4.99 | |
| 13THC-MAA-SUGARLOAF-LUP-CC | 15mm 13th century mounted men-at-arms in sugarloaf helms, lance up, on caparisoned coursers (x3) | $4.99 | |
MOUNTED MEN-AT-ARMS IN COATS OF PLATES (GERMANS, ETC)(all have lance up)
| Code | Contents | Price (US$) | Order/Progress |
| --- | --- | --- | --- |
| 13THC-MAA-COP-BARREL-CC | 15mm 13th century mounted men-at-arms in coat-of-plates (leather vest with steel plates inside), barrel helms, on caparisoned coursers (x3) | $4.99 | |
| 13THC-MAA-COP-BARREL-AC | 15mm 13th century mounted men-at-arms in coat-of-plates, barrel helms, on armoured coursers (x3) | $4.99 | |
| 13THC-MAA-COP-BARREL-UC | 15mm 13th century mounted men-at-arms in coat-of-plates, barrel helms, on unarmoured coursers (x3) | $4.99 | |
| 13THC-MAA-COP-KETTLE-CC | 15mm 13th century mounted men-at-arms in coat-of-plates, barrel helms, on caparisoned coursers (x3) | $4.99 | |
| 13THC-MAA-COP-KETTLE-AC | 15mm 13th century mounted men-at-arms in coat-of-plates, kettle helms, on armoured coursers (x3) | $4.99 | |
| 13THC-MAA-COP-KETTLE-UC | 15mm 13th century mounted men-at-arms in coat-of-plates, kettle helms, on unarmoured coursers (x3) | $4.99 | |
DISMOUNTED MEN-AT-ARMS
LESSER MOUNTED
INFANTRY