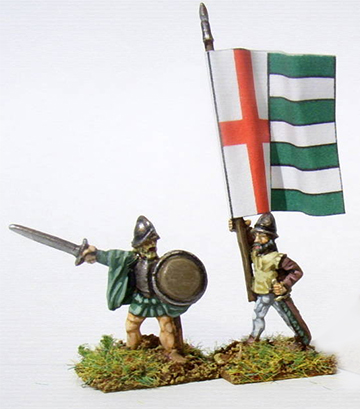 Tyrone's Rebellion Foot Command
Figures for the Irish in the sixteenth century, culminating in the cataclysmic Tyrone's Rebellion, which was a disaster for the English and then for the irish. Although containing traditional elements such as light cavalry, lightly armed native Irish infantry and heavily armoured Galloglaich axemen, later in the century Irish armies also contained pikemen and arquebusiers, many of whom had experience fighting in the Spanish armies on the continent.

The shields on the armoured cavalry and the native Irish foot warriors are separate -- some of the shields have javelins cast on them. Pikes, cavalry spears and standard poles are separate and provided. Mounted command has a general, standardbearer, and priest!

Sculpted and painted by "clibinarium."