Thirty Years War, 1618-1648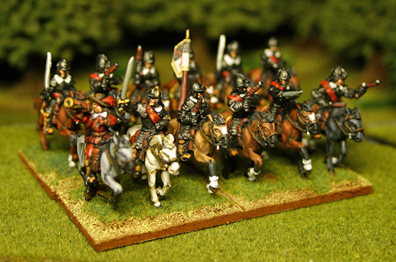 Imperialist Curiassiers painted by Artmaster Studio.


This line represents the Imperial armies of the Thirty Years War, with a special emphasis on roughly the first half of the war, from the first battles until the climactic battle of Nordlingen, in which the Swedish Phase of the war ended and the French intervened. Most of the classic battles of the war occurred during this first half and the German and other imperial troops had a distinctive dress which is not really adequately represented by models which are sculpted based on sources from the English Civil War.

Every effort has been made to assure that the men are dressed and equipped as would be in the armies of Tilly and Wallenstein. The first set available, the cuirassier, were the foundation of the heavy Horse of Imperial armies and far and away the most popular helmet these wore was the zischagge helmet. In their sinister black armour and aggressive-looking helmets, these formidable heavy horse were one of the reasons that Gustavus brigaded detached shot with his Horse.

The models are made in a large 15mm style so that they may mix with many of the popular ECW and TYW lines currently available. The models have been made to fit on the base/element sizes required by most rules sets, that is, a width of 40mm, with a depth depending on the troop type. The models will be available in handy unit sets and will come complete with command figures.

Sculpted by Mike Broadbent. The models were painted by Artmaster Studio.

Any flags shown are not included.
| Code | Contents | Price (US$) | Order/Progress |
| --- | --- | --- | --- |
| KM-2600 | Thirty Years War German/Swedish Kurassiere in 3/4 plate and Zischagge helmets (one complete unit, x 12 including command) | $17.99 | |
| CLOSED-HELM-CUIR | Thirty Years War German/Italian/Spanish Cuirassiers in 3/4 plate and closed helmets (one complete unit, x 12 including command) | $17.99 | |
| KM-2601 | Thirty Years War German/Swedish Cavalry in Buff Coats/Jackets with pistols (x 12, one commander, one standard bearer, and ten pistoliers in four unique poses) | $17.99 | |
| KM-2602 | Thirty Years War German/Swedish Cavalry in Breast- and Back-plates with pistols (x 12, one commander, one standard bearer, and ten pistoliers in four unique poses) | $17.99 | |
| KM-2603 | Thirty Years War German/Central European Pike Block Core (twelve figures -- three command, nine pikemen with tassets, nine pikes) | $9.99 | |
| KM-2604 | Thirty Years War German/Central European Rear Ranker Pikemen (twelve figures -- twelve pikemen without tassets, twelve pikes) | $9.99 | |
| KM-2605 | Thirty Years War German/Central European Musketeers with plain jackets or buff vests (eighteen figures -- nine loading musketeers, nine shooting) | $11.99 | |
| KM-2606 | Thirty Years War German/Central European Musketeers with winged shoulder jackets (eighteen figures -- nine loading musketeers, nine shooting) | $11.99 | |
| KM-2607 | Thirty Years War German/Central European Musketeers with schutzenrock (shooting jacket) with sleeves unbuttoned(eighteen figures -- nine loading musketeers, nine shooting) | $11.99 | |
| KM-2608 | Thirty Years War German/Central European Mounted Arquebusiers/Bandolier Reiter (twelve figures -- commander and standard bearer, six reserve figures (three different poses), and four shooting poses (all unique)) | $17.99 | |
| KM-2609 | Thirty Years War Medium Field Cannon with Five Crewmen | $4.29 | |
| KM-2610 | Thirty Years War German/Central European Dragoons/Light Musketeers Skirmishing (x6 in three poses) | $3.99 | |
| KM-2611 | Thirty Years War German/Central European Dragoon Horseholders (two holders and four horses) | $4.99 | |
| KM-2612 | Thirty Years War Imperial General Officers (Tilly, Wallenstein, Pappenheim, Other General Officer, Two Aides, and Cuirassier Kettle Drummer) | $10.99 | |